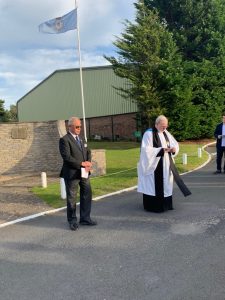 The weekend of 14th and 15th September saw our 30th Annual Reunion at Elvington. It was lovely weather and around fifty guests came to remember their fathers, grandfathers, friends and uncles who took part in the most dangerous missions of WW2, flying in their hundreds from all along the east side of England mostly at night to Germany, many never to return. Some were lost at sea, others buried in known or unknown graves in the Netherlands, Belgium and Denmark. Some survived a crash but died in captivity or whilst evading or escaping.
An Act of Remembrance was conducted at the memorial (completed 30 years ago by the Association on September 16th 1989),  by the Revd Geoffrey Garside, whose father-in-law was Ralph Tailford who served as a flight engineer with 77.  Keith Baker (son of veteran Ron Baker), movingly delivered the Exhortation:  "They grow not old as we that are left grow old. Age shall not weary them, nor the years condemn. At the going down of the sun, and in the morning, we will remember them."  
We are so pleased that our President, veteran pilot, 96-year-old Bill Ballantyne, was able to be with us again. Bill flew 22 missions from Full Sutton and later became an eminent Arabic lawyer and professor. He came with his partner, Caroline, his son, Brian, and daughter, Binty, who had never seen a Halifax up close before. Together with nine other guests, they enjoyed the privilege of a tour to the interior organised by the museum's guides.
After the ceremony, member from Canada, Sandra Chater placed some Canadian flags to honour her father, Gordon Austin of the RCAAF. It is not often recognised that 77 included crew from nearly all the Allied Nations and we were thrilled that Sandra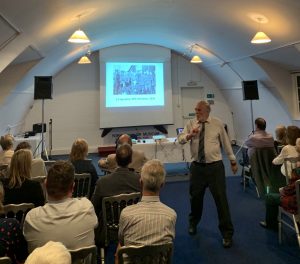 came and also that Susan Billett, the daughter of Eric James Billett, came specially from Australia for the Reunion. Susan was understandably jet-lagged but delighted to be learn more about her father's wartime service.
The reception in the NAAFI saw more guests arriving and then it was into the Elvington Room to find our places for dinner which we were ably served by museum staff.  Our thanks must go to Van Wilson who laboured long and hard over everyone's menu choices. Bill made a very loyal toast to the Queen. Committee member Andrew Brown made a heartfelt toast to "Absent Friends". Dr John Wright followed dinner with his lively presentation about the Squadron from its inception in Edinburgh in. 1916 to its final demise as one of twenty Strategic Missile squadrons 1963.
The next day, Sunday, 15th September, we held a service in the museum chapel with the Revd Taff Morgan officiating. Taff is our chaplain and a more recent veteran, having served as a navigator in Vulcans, Tornadoes and Tucanos.  Bill laid a wreath on the altar steps and Van turned a page of the Roll of Honour which is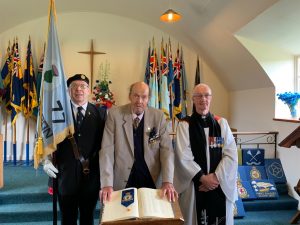 kept in the chapel.  Paul Leforte  (nephew of Raymond Leforte, KIA February 1945), as standard bearer, brought the dignity that the standard deserves and once again Keith Baker led us in the Exhortation.
Following the service, we held our first ever formal, Annual General Meeting at which the Committee presented the Association's Constitution which clarifies its status, procedures and responsibilities. A copy of the Constitution which was approved by members at the meeting, is a document that can be accessed from the file on the right or contact us for a copy.
There was a discussion about expenditure and about the current subscription rate of £6.00 with overseas at £12.00. The feeling of the meeting was that due to the high cost of postage and printing of the Nickel Leaflet, the subs were too low. £10 was suggested with £15 for overseas.
Present throughout the weekend was Anders Straarup from Denmark, a retired teacher who has researched and impressively catalogued more than a thousand Allied airmen buried in Denmark or shot down over Denmark or Danish waters in 1939-45. He says there were 463 planes and 3,088 airmen and has created a website, https://www.airmen.dk/, because, as he says; "The fallen airmen are not an anonymous group. They were men, often very young, who lost their lives in the war of their time."
This is what Australian, Susan Billett wrote to us:
I had a wonderful time last night and today touring the Halifax, it was quite emotional when I first saw it, I was overwhelmed by the fact that my dear old dad was a part of that history along with all the other young men and women. And the thought that he actually flew in those majestic big aircrafts. It's almost difficult to even imagine what they went through and the bravery and courage it would have taken to fly in them. I have had a fabulous time here in York, everyone has been so friendly and helpful. 
Rachel Semlyen, Elvington,
September 2019