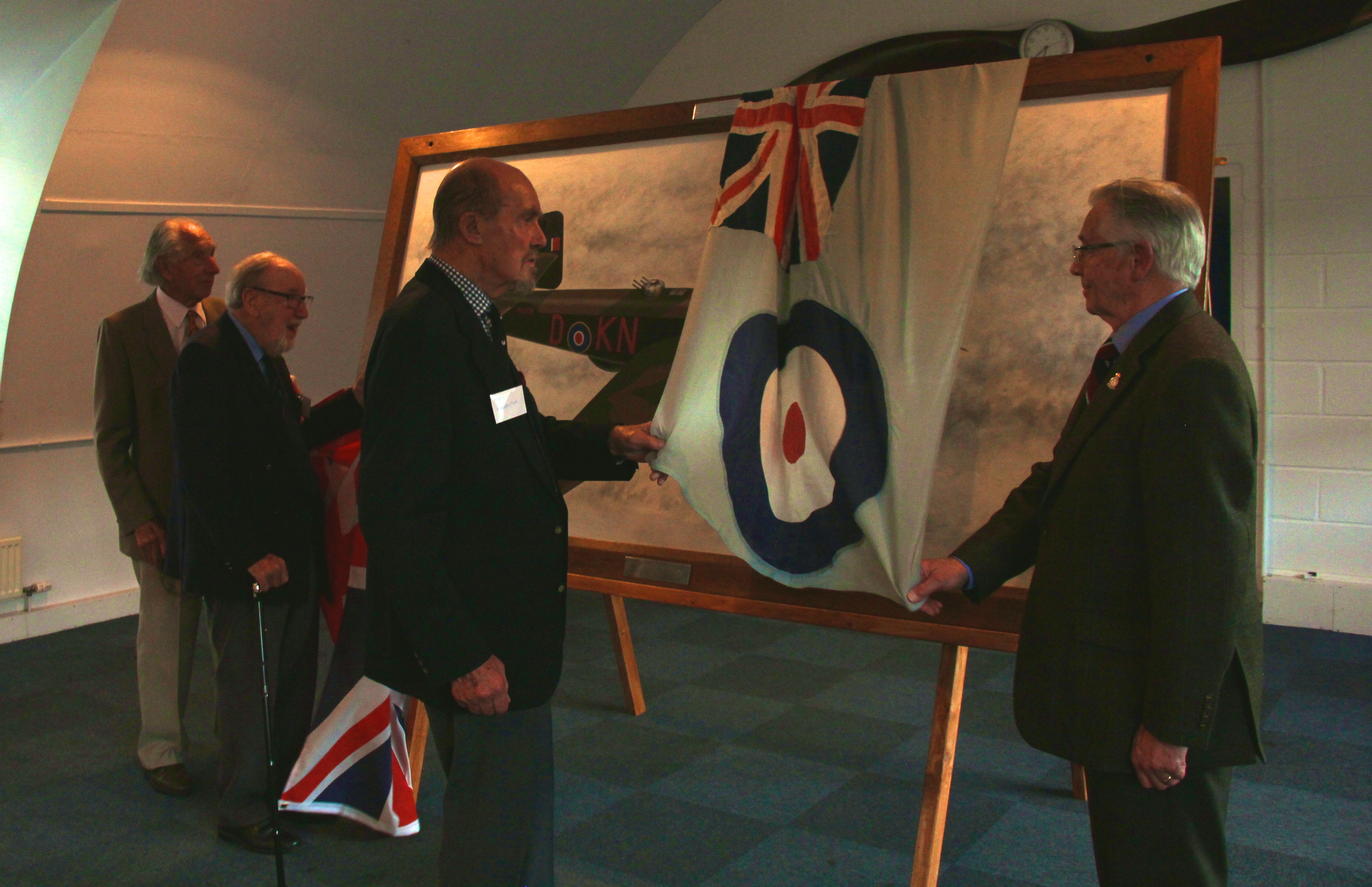 It was a wonderful weekend of friendship and remembrance. A good turn-out of friends and families of 77 squadron with 50 booked in for dinner at the air museum.  We were thrilled that three veterans were able to be with us, all now of course in their nineties: Bill Ballantyne, pilot, Tom Nash, w/op and AG and Jeff Strain, radar technician.
We were sorry that Ted Matthews was not fit enough to travel ( sadly he passed away November 16th), but David and Liz were there on his behalf.  Our President, Bill Foote has made a great recovery from his stroke but was still unable to be with us.  Bill Ball, who has usually been a great presence here has moved away to be with his family. We missed him and Flo and their exuberance. We missed Celia and Ray Wolfe who at the last minute could not come due to ill health.
Last December, Derek Oakley passed away but we were so pleased that his family came in his memory, with a baby grandson too to carry on the family tributes.
In October last, a stalwart of all our reunions, whom many will remember, Cyril Frazer passed away. He and Derek seemed indomitable so we are specially missing them.
Mark and Pam Hood came to remember Claude L. Geoffrey Hood KIA August 1940
Paul and Sheila Leforte came to remember Raymond Leforte, KIA 1945,  buried in Denmark.
Chris Garside and husband, the Revd Geoff Garside, remembered Ralph Tailford,  Flight Engineer, Chris's father, who was a much-loved regular at our reunions and a steward at the air museum.  Geoff officiated at our ceremony at the memorial before dinner and said Grace.
Keith Baker comes every year in memory of his father, Ronald Baker, a fitter working to keep our aircrew safe. And Nikki, Oliver and Patrick Sheeran, daughter and grandsons of Leading Aircraftman Peter Sharpe, ground crew, came to remember Peter.
Brian Walters, remembered his father, David Walters, Flight Engineer; Norman and Gail Hunter, and Juliet and Lawrence Stockford, came to remember their relatives: Alan Ball DFC, father of Juliet  and her uncle, Lawrence Bridger of 77 in Coastal Command; Haydn and Pat Ward recently joined the association in memory Haydn's uncle, Glyn Jones, Flight Engineer
Toby Wilson and Philippa Pindar, whose grandfather was Pilot Alan May, and their mother Van, our treasurer, historian and membership secretary gave much support over the weekend, with Toby proudly carrying our standard into church the following day.
Anders Straarup came from Denmark. He has taken a particular interest in the allied aircrew who are buried in Denmark, and has painstakingly created a database and record on a special website: http://www.airmen.dk/
Artist, Brian Gaunt was a guest. He had put in painstaking work over many years to restore a huge Halifax painting dedicated to the the squadron. Thank you too to Derek Reed, museum trustee, who managed with great ingenuity and dedication to get this giant of a painting to us for the veterans to unveil. We also welcomed one of the museum's newest trustees, Stuart Armstrong, and his wife Louise.
Instead of a main speaker at the reunion we were able to show the 77 Squadron film which has been some years in the making. It lasted one hour, covering the history of the squadron and the Association, with many familiar faces. We are to make a few small changes and then the film will be copied to DVD which will be on sale. The price will be £10 plus £2.80 postage
We thought this might have been our last get-together, although the Association will continue with the great voluntary help of our committee. Alec Brown has taken on the task of producing the Nickel Newsletter and Van the editing. It seems that the wish of members is to continue with the reunions. We will have news in the next Nickel.
Rachel Semlyen